A Cincinnati electric vehicle infrastructure company will make a nine-figure investment to expand its footprint in Ohio, and the effort has received a high-level nod from the White House.
EdgeEnergy, one of the region's fastest-growing startups, will spend $150 million to expand manufacturing and grow its team, according to an announcement Wednesday from the White House. The Biden-Harris administration in a fact sheet today announced the latest set of actions aimed at expanding the electric vehicle charging network in the U.S. 
The commitment includes 60 new manufacturing and engineering jobs over the next 24 months – at least half of which will be based locally. EdgeEnergy also plans to increase its manufacturing capacity. 
EdgeEnergy said the commitment comes amid growing demand for its technology. The company designs and manufactures conversion hardware that allows for the installation of ultra-fast "DC fast chargers" on single-phase power infrastructure, allowing for installations in so-called edge-of-grid locations, or remote areas like state parks, small towns and rural resorts.
The technology allows for faster and lower-cost installation – and addresses one of the greatest barriers to EV adoption: range anxiety.
"EdgeEnergy is thrilled with the reaction to our technology and the ongoing growth we have experienced," Jon Holland, EdgeEnergy's chief financial officer, said in a release. "We are getting great response from some very big names in the industry, and we are eager to expand our workforce and manufacturing capacity amid an exciting period of growth for our company."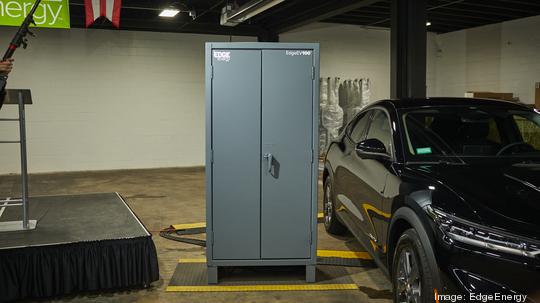 EdgeEnergy's flagship product, EdgeEV, a fully self-contained, plug-and-play system, serves as a power source for EV fast chargers in "edge-of-grid locations."
EdgeEnergy
EdgeEnergy, based in Green Township, maintains a 21,000-square-foot manufacturing facility and research and development center.
The company plans to invest in its existing facility there – adding equipment and more. EdgeEnergy signed a lease in recent months to take over the remaining square footage in the building.
EdgeEnergy also works with a contract manufacturing facility in Anna, north of Dayton. That facility will likely need additional square footage, Ben Morris, EdgeEnergy's director of business development and government affairs, told me.
The 60 new jobs will be split between Cincinnati and Anna, he said.
While the company is making the $150 million investment privately – using company revenue – the White House nod is a huge deal, he added, especially since EdgeEnergy is only 2 years old.
The White House announcement profiled investments from 19 companies, including Tesla, Pilot Company, Siemens and others. "It raises our profile and creates confidence in our investors and customers," Morris said.
The company is currently raising a pre-A funding round, which has a $3.5 million target, and will look to launch a Series A this summer. 
"It's a big commitment for us, and a big commitment for Ohio," Morris said. "We work with a co-manufacturer, we have a ton of vendors in the Midwest, and as our company grows, this investment not only benefits us, but it trickles down to all the people we work with and write checks to."
EdgeEnergy, a Cincy Inno "Startup to Watch" for 2023, is a participant in the White House Infrastructure Talent Pipeline Challenge, a nationwide initiative to create job opportunities in growing industries like electrification. 
EdgeEnergy is working with community partners as well as industry partners like Blink Charging to develop a job training program that will be available online and in-person at its Cincinnati headquarters.
The program will focus on technical training for the maintenance of charging stations and will provide a talent pipeline for industry partners for skilled workers in the growing EV Infrastructure industry.
Blink Charging recently signed a memorandum of understanding with EdgeEnergy for the distribution, sale and deployment of EdgeEnergy's EdgeEV, a fully self-contained, plug-and-play system. In a release, Blink Charging President Brendan Jones called EdgeEnergy's technology a "game changer."