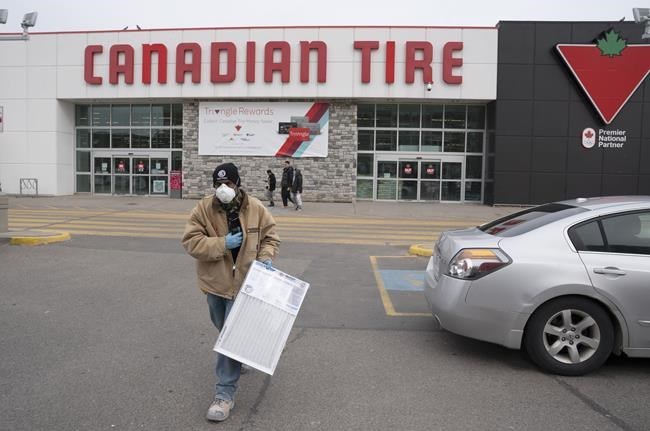 Canadian Tire Corp. Ltd. capped its centennial year with strong growth in its automotive business as demand for auto parts and service helped offset softer spending on non-essential items, the company said Thursday. 
The standout performance of its auto division underscored a broader consumer focus on essential goods and services across the company's banners as inflation erodes discretionary incomes in Canada.
Canadian Tire, which includes its namesake Canadian Tire stores, PartSource, Mark's and SportChek, said its consolidated comparable sales rose slightly in its fourth quarter, up 0.3 per cent compared against hefty gains posted in the same period a year ago. 
At its Canadian Tire chain, comparable sales were flat in the quarter compared with the prior year as a sharp spending pullback on non-essential items like bikes and kayaks was tempered by strong automotive parts sales and service. 
"The automotive division once again posted strong growth as it has done for 10 consecutive quarters now," chief financial officer Gregory Craig told a conference call with financial analysts. 
"Automotive was up five per cent and auto maintenance and light auto parts did particularly well both at Canadian Tire and PartSource."
TJ Flood, president of the Canadian Tire retail store, said the chain is investing in new technology to "modernize the auto service experience for customers."
Customers will be able to book service appointments online and communicate directly via text message with technicians, who will be equipped with new auto service tablets, he said. 
"When you think about the average age of the fleet in Canada, it's getting older because of the shortage of new cars," Flood said. "That really provides a lot of tailwind for us. We're very bullish about automotive as we go forward here."
Overall, Canadian Tire said it earned net income attributable to shareholders of $531.9 million or $9.09 per diluted share for the 13-week period ended Dec. 31, up from $508.5 million or $8.34 per diluted share a year earlier.
Revenue totalled $5.34 billion, up from $5.14 billion in the same quarter a year earlier.
SportChek comparable sales fell 1.7 per cent, while Mark's comparable sales rose 4.3 per cent. Helly Hansen revenue gained 20.6 per cent compared with a year earlier.
Canadian Tire said its normalized profit for the quarter amounted to $9.34 per diluted share, up from a normalized profit of $8.42 per diluted share a year earlier. Analysts on average had expected a profit of $7.44 per share and $5.18 billion in revenue, according to financial markets data firm Refinitiv.
This report by The Canadian Press was first published Feb. 16, 2023.
Companies in this story: (TSX:CTC.A, TSX:CTC)
Brett Bundale, The Canadian Press