view original
post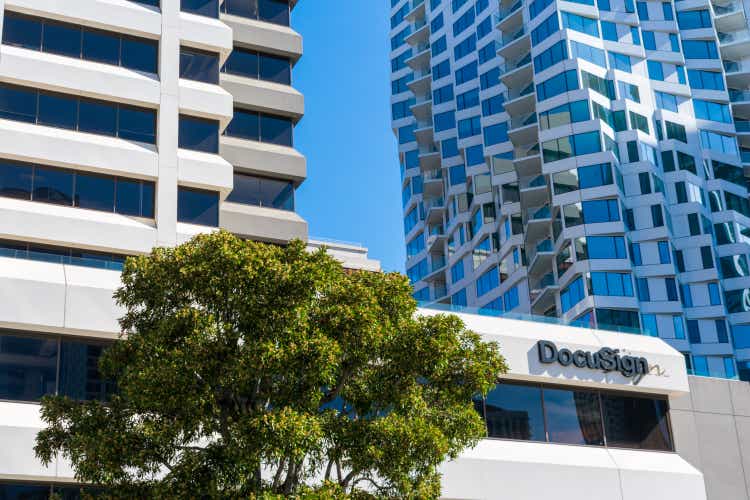 As optimism returns and investors slowly wade back into growth stocks, we still have a vast opportunity to buy into very high-quality tech stocks at a fraction of their former worth. It's almost difficult to remember now, but DocuSign (NASDAQ:DOCU) was once a pandemic favorite that traded at crazy revenue multiples back when the markets assumed that the Zoom (ZM) fueled remote work revolution would keep indefinitely growing.
It's a great time, in my view, to revisit the bullish thesis for DocuSign, which is still down more than 50% over the past year (and is also one of the few software stocks not to have seen a meaningful rebound yet in 2023). Worth noting as well is that DocuSign is down more than 80% from 2021 highs above $300 and has erased all of the gains it made during the pandemic and then some – which I think to be unfair given how dramatically the business has scaled since 2020.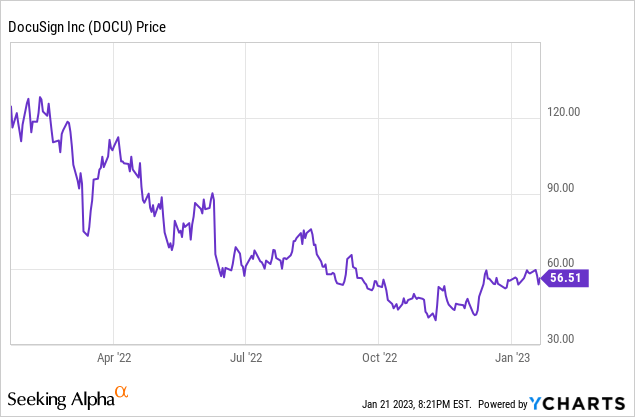 Amid DocuSign's continued low share prices alongside consistent (if no longer quite that exciting) fundamental results, I remain very bullish on DocuSign and have continued to add more to my position on dips.
Here is my full bullish thesis on DocuSign:
Clear leader in a mission-critical technology product. Despite the fact that pandemic tailwinds are "over" for DocuSign, remote work has only shown us how reliant we are on digital to facilitate basically everything. Today, many swaths of industry remain stuck in legacy processes; and giant sectors like real estate and healthcare remain ripe for technology disruption. In other words, DocuSign still benefits from a huge greenfield market for its electronic agreements products. DocuSign is also designated as an industry Leader by Gartner, arguably the most influential software reviewer.
$50 billion TAM. DocuSign addresses a $25 billion market opportunity in pure e-sign and an additional $25 billion opportunity for add-ons, which means the company's current ~$2.5 billion revenue scale has only achieved single-digit penetration into this overall market.
Customer diversification. DocuSign is a truly "horizontal" software product that is applicable to customers of any industry, without any functional changes needed to its product. At the time of its IPO in 2018, DocuSign had only ~400k customers; today, that number has more than tripled to more than 1.3 million, reflecting the strength of DocuSign's go-to-market expansion.
High gross margin profile. DocuSign has 80%+ pro forma gross margins, among the highest in the enterprise software sector and allowing for significant operating leverage at scale.
Profitable on a pro forma and free cash flow basis, and a Rule of 40 stock. Even as growth is slowing, DocuSign is still able to impress with low-20s pro forma operating margins and rich free cash flows – which is a major booster in this very risk-averse market environment.
And though we could not say this during the pandemic, now DocuSign's low valuation is one of the biggest draws to this investment. At current share prices near $56, DocuSign trades at a market cap of $11.36 billion. After we net off the $1.10 billion of cash and $721.8 million of debt on the company's most recent balance sheet, DocuSign's resulting enterprise value is $10.98 billion.
Meanwhile, for the upcoming fiscal year FY24 (which for DocuSign is the fiscal year ending in January 2024), Wall Street analysts have a consensus revenue target of $2.69 billion for the company, representing 8% y/y growth (data from Yahoo Finance). I think given that DocuSign is still growing both revenue and billings at a high-teens pace, this outlook should prove to be quite conservative. Nevertheless, even taking consensus at face value, DocuSign trades at a valuation of just 4.1x EV/FY24 revenue – a bargain for a company with such rich gross margins and is still considered a Rule of 40 company.
Stay long here: DocuSign has plenty of slot ground to recover, and the fundamentals to back a recovery.
Q3 download
Let's now go through DocuSign's latest third-quarter results in greater detail. The Q3 earnings summary is shown below:
DocuSign's revenue grew 18% y/y to $645.5 million, beating Wall Street's expectations of $627.2 million (+15% y/y) by an impressive three-point margin (earnings beats in the tech sector were certainly no guarantee as they were in the past, during the second half of calendar 2022).
The company also achieved billions growth of 17% y/y, approximately in-line with revenue, decelerating two points quarter-over-quarter. Though billings did decelerate, we think it's hardly likely that DocuSign's growth will quickly shrink to the single digits next year.
The company notes that macro headwinds have caused sales cycles to lengthen and expansion rates to contract. Per CFO Cynthia Gaylor's remarks on the Q3 earnings call:
As the macro becomes more challenging, we are seeing softening demand trends materialize, including smaller deal sizes and expansion, with increased customer scrutiny on priorities and budgets in some cases. On the other hand, we are still seeing healthy results as customers recognize DocuSign offers high-ROI applications that are easy to use, efficient and cost-effective […]

Dollar net retention was 108% for the quarter. We continue to see more muted buying patterns and slower expansion rates from customers in the current climate. We expect buying patterns to remain cautious in the near-term, resulting in dollar net retention continuing to trend downward for the remainder of the year."
Management noted that clients in the real estate and financial services industries saw the heaviest slowdowns.
Still, I view these macro headwinds as not company-specific. The company noted that customers in the manufacturing, retail, and technology sectors saw healthy performance, and the company still grew its number of total customers by 13% y/y and the number of customers with ARR >$100k by 34% y/y.
Profitability remains the bright mark for DocuSign. Pro forma gross margins inched even higher to 83%, up one point from 82% in the prior-year quarter. Pro forma operating margins, meanwhile, expanded to 23% from 22% in the year-ago quarter (on top of 18% y/y revenue growth, this puts DocuSign's "Rule of 40" score at 41):
And though unfortunate, the company's decision to lay off 9% of its workforce (from an employee base of ~7,000) in September should help margin performance in Q4 and FY24.
Key takeaways
Amid a relatively more cautious market, DocuSign's focus on its bottom-line growth should help to be a key driver of the stock in 2023. And when we look at the long term, we continue to see tailwinds for e-sign as paper-based documents become relics of the past. Stay long here.