view original
post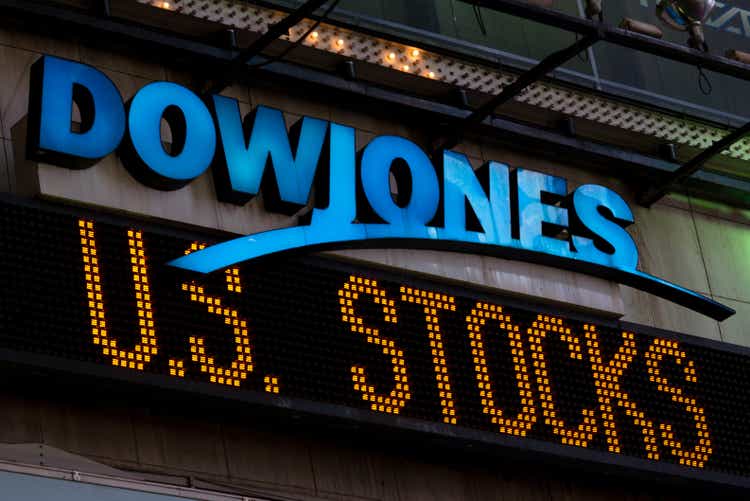 The Dow Jones index comprised of 30 of the biggest and most profitable companies in the world has long been a staple of portfolios. While the index trails behind the S&P 500 in importance, it is often seen as a bellwether for the US economy since it has many of the best nuts and bolts companies. The Global X Dow 30 Covered Call ETF (NYSEARCA:DJIA) is relatively new option for income oriented investors, with the ETF writing covered calls against the Dow 30 stocks. This is great for those who want to put it in retirement accounts, or who don't want to deal with the writing of call options themselves. The ETF has only been around for 1 year but in this time it beat the Dow Jones index with its superior performance in down markets. The ETF provides an exceptional yield of more than 11%, which will be slightly variable month to month based on volatility.
DJIA pays a monthly distribution, which is nice because it keeps the income relatively consistent over time. The MER is a bit high but not uncommon for a strategy using options at 0.60% per year. Doing such a strategy yourself at most brokerages would result in significant fees, and destroy any potential gains you would get. The ETF writes monthly at the money calls on the underlying stocks, giving up the upside in exchange for significant income potential. For this ETF they write against 100% of the index, giving up all potential upside. Keep in mind that during periods of high volatility like we have seen lately that the potential income is higher. Volatility continues to be high with the market unsure if we will have a recession or a soft landing of the wider economy. The past year the ETF has had a yield of 11.3%, or around 20 cents per month on each share. As you can see from the graphic below, a stable or down market the covered call position will outperform. This should make 2023 a good time to hold DJIA as we continue to see high levels of volatility and unstable markets. In 2022 the ETF beat the index significantly and especially during periods where the market was down – essential to protecting your capital. The most volatile months of 2022 were the best for distributions, with March, June and October all having strong dividends when the index performed poorly.
We know the underlying index is of the highest quality, with a reasonable valuation to boot. Below you can see that DJIA trailed the index during periods when it rallied but still only finished 7.4% higher. However, the index had a yield of 1.8% only giving DJIA superior returns for 2022 by several percent. You can also see if the market drops from its current high levels, the covered call ETF will likely follow the Dow but will pay 10% more yield while doing so. For 2022 the index traded at a reasonable 15.75x earnings, with a 23.40% return on equity which is extremely high. While you could write higher premiums on a more volatility underlying index, your chances of significant capital loss on the principal is much higher. DJIA is a great option because it provides impressive income while still being very stable. It has a beta of 0.98 so it is less volatile than the wider market, to be expected for something made of Mega cap companies. The market rallied significantly at the end of the year making it an ideal time to switch from your Dow index or even some Dow components to a more diversified and stable income ETF for 2023. The most volatile months of 2022 were the best for distributions, with March, June and October all having strong dividends when the index performed poorly.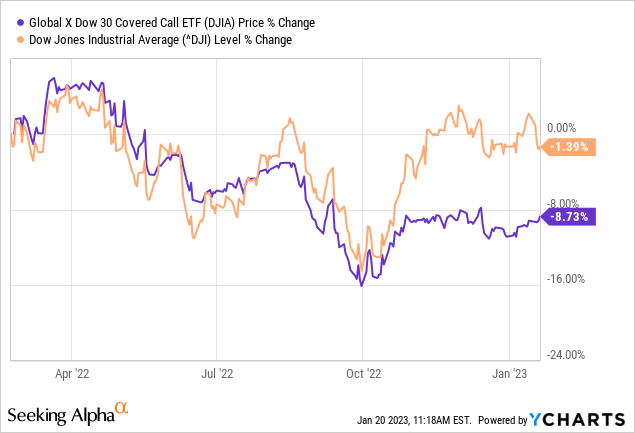 Conclusion
The DJIA ETF is not for everyone, with long-term oriented growth investors likely not interested in it. However, as a short-term play to reduce your portfolio volatility, it is a great option. Also, income oriented retirees would find the ETF a good option during any periods they expect the market to be flat or down. If you are like most investors expecting another poor year in 2023 with a potential recession, I would highly recommend buying DJIA to hedge portfolio risk and keep the dividends flowing.