view original
post
Editor's note: Seeking Alpha is proud to welcome Oakridge Trading as a new contributor. It's easy to become a Seeking Alpha contributor and earn money for your best investment ideas. Active contributors also get free access to SA Premium. Click here to find out more »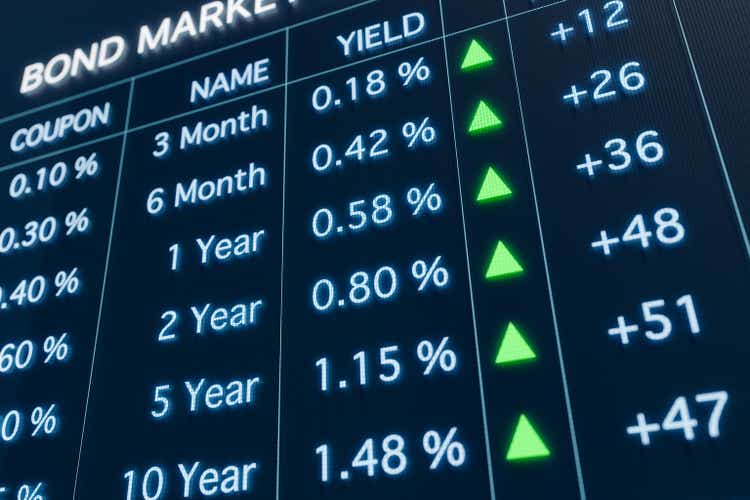 Investment Thesis
In today's uncertain economic environment, many investors are looking for safe places to park their money, and T-bills provide a reliable option. T-bills are highly liquid, with maturities ranging from a few days to 52 weeks, and they offer a fixed return at a relatively low risk. The iShares 0-3 Month Treasury Bond ETF (NYSEARCA:SGOV) invests in a basket of very short-term T-bills and provides investors nowadays with an attractive yield on their cash. They are a good choice for investors who want to preserve capital and generate income, especially in a high-interest rate environment like today.
SGOV: Assessment Of The Risk-Reward Opportunity
SGOV tracks the performance of a market-weighted index of short-term U.S. Treasury bills. It is a good choice for investors who are seeking a source of stable income and are willing to accept lower returns in exchange for the security of investing in US government bonds. Below is a breakdown of SGOV's top 10 holdings:
3-month T-bills now offer a 4.6% annual risk-free yield. In terms of your upside on this investment, Fed officials recently mentioned that several hikes are still expected, with a terminal Federal Funds Rate approaching 5-5.25%. The message from the Fed seems to be that we will have higher rates for longer, which is a concept the market has a hard time grasping. The risk of this investment is extremely low since T-bills are backed by the US government. I personally believe the only threat to the bullish thesis is a prolonged period of CPI prints exceeding the Federal Funds Rate, in which case T-bills investors will be earning a negative real return on their investment. However, this scenario has a low probability of materializing, as we are probably heading for a period of lower economic growth as suggested by recent data.
T-bills are not only a great investment from an absolute perspective, but they're also providing a better risk-reward opportunity than stocks right now. The S&P 500 dividend yield stands at ~1.6%, which is way below SGOV's yield. Assuming you replace dividends with earnings, the S&P 500 is now trading at ~17x FY23 EPS. This results in a 5.9% earnings yield, which seems extremely low in a world where T-bills will probably deliver 5.2% annually in the next 6 months, without all the potential downside risk.
Mixed Economic Data
Recent economic data remains mixed, with some indicators showing improvement, while others are showing weakness. In this scenario, I believe that playing defense is a superior strategy to risk-on investing. The University of Michigan Consumer Sentiment, based on a survey of consumers in the United States, indicates depressed levels of consumer confidence, comparable to readings from the early 80s when nominal interest rates touched 19%, leading to one of the toughest recessions in US history. While some retail sales metrics indicate that consumer spending remains strong, such low levels of consumer sentiment are a sign of economic weakness in my opinion, as consumers become more hesitant to spend money in the near future.
Some parallels to the 70s and early 80s can also be drawn using the misery index which is now at comparable levels. Developed by economist Arthur Okun in the 1970s, the misery index is a measure of economic hardship that is calculated by adding the unemployment rate to the inflation rate, with the idea being that high unemployment and high inflation create economic pain for consumers. So far over the last 2 years, the rise in the misery index was driven by higher CPI prints, with unemployment offsetting the negative inflation impact. However, I suspect that higher rates will eventually crack the labor market in 2023, and while inflation might no longer be the main issue by then, the rise in unemployment will keep the misery index at a high level over the next month's relative to the past decade.
Another leading indicator showing that the probability of an economic slowdown is increasing is the ISM PMI data. The ISM PMI is an economic indicator that measures the performance of the manufacturing sector in the United States. It is based on a survey of purchasing managers at more than 400 manufacturing firms, and it is released on the first business day of each month. A reading above 50 indicates expansion, while a reading below 50 indicates contraction. Both the ISM Services and ISM Manufacturing PMIs are indicating now that the US economy is contracting. The prospect of owning risk assets in this environment becomes hard to justify when equity drawdowns are likely to increase over the next months, while short-term Treasury bills are yielding >4% at the moment.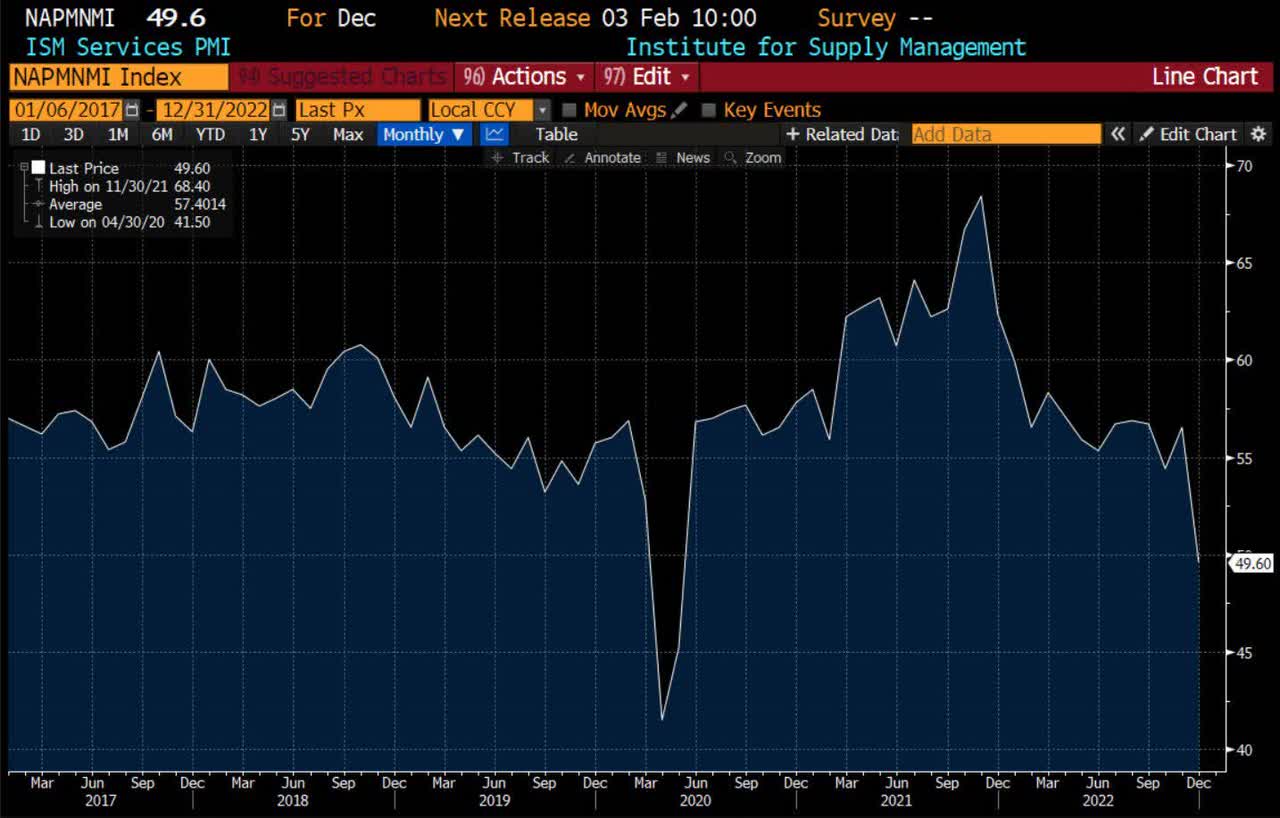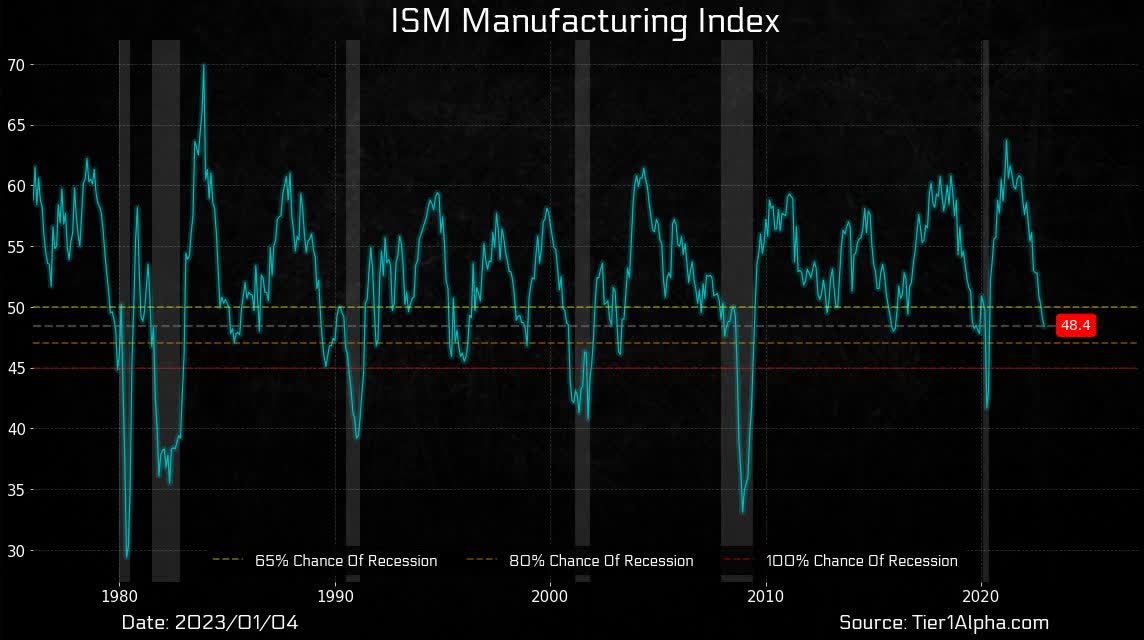 The best counterargument to the doom and gloom narrative remains the solid GDP data. The GDPnow model, which is a real-time estimate of US GDP produced by the Federal Reserve Bank of Atlanta, shows that Q4 2022 real annualized growth is close to 4%, far above the 1% Blue Chip consensus.
Mixed economic data is a challenge for policymakers, and it is confusing for investors and consumers, who may not know whether to be optimistic or cautious about the economy. I believe that recent data points to an economy transitioning from expansion to contraction, but that process is taking longer than most investors anticipated. However, strong economic growth provides support (for now) for tighter financial conditions in order to fight inflation. As a result, I don't expect a pivot from the Fed anytime soon.
Monetary Policy Going Forward
When it comes to monetary policy, the Fed has two main missions:
To promote maximum employment

To promote stable prices
The Fed works to promote maximum employment and stable prices in the economy by setting monetary policy and using tools such as interest rates to influence economic activity.
The American economy has one of the tightest labor markets in the world at the moment. Below are some of the characteristics of the US labor market that have proved extremely resilient in the face of higher rates:
Low unemployment rate: a low unemployment rate makes it difficult for employers to fill positions.

High job openings rate: the current high job openings rate indicates that there are more job openings than there are job seekers, which can make it difficult for employers to find qualified candidates.

Increased competition for job candidates: employers are competing with each other to attract and retain top talent, resulting in higher salaries and better benefits. This is reflected in wage growth rates exceeding 5% for both job stayers and job switchers.

Difficulty finding qualified candidates: numerous surveys including ISM PMIs mention that employers are having a hard time finding qualified candidates for open positions.
Based on the dynamics we are observing in the labor market, we can safely say that the Fed has achieved its maximum employment target and is only left with its mandate to promote price stability.
Regarding price stability, inflation is still running too high, despite one of the most aggressive tightening cycles in recent history. As of December 2022, 1-year inflation expectations stood at ~3%, an improvement compared to the prior month, but still way above the Fed's long-term target of 2%. Given the uncertain global macroeconomic context, particularly with respect to commodities and their impact on the CPI, I think the Fed knows that it's premature to pivot. On top of that, the economy provides a solid ground for the Fed to continue withdrawing liquidity from the financial system. In this scenario, risk assets are likely to deliver negative returns at worst, or to stay flat at best. As a result, I believe that T-bills are now one of the most attractive investments available at the moment.
Key Takeaways
Financial markets have been highly volatile over the last 12 months and I don't see any indication that this trend is about to change in the near future. Mixed economic data highlights the complexity of this cycle, where investors are left wondering if they should play defense or offense. I personally believe that we are transitioning to a phase of lower economic growth. In this scenario, SGOV provides a good solution for weathering the upcoming volatility regime while earning a decent yield.