view original
post
The market crash has punished almost every sector except for energy, and streaming giants have not been spared either. The beating received by streaming companies makes perfect sense as these companies rallied at the height of the pandemic with consumers confined indoors. Paramount Global's (NASDAQ:PARA) stock, after almost settling at the $100 mark on March 18, 2021, entered a downward spiral. The Archegos Capital saga in early 2021 was a tipping point that changed Paramount's fortunes, known as ViacomCBS back then. Paramount's case is unique as the company has lost 42% of its market value in the last 12 months and over 65% of its market value in the last five years as well, which suggests the company was struggling well before the bear market of 2022. I invested in Paramount around April 2021 along with members of Leads From Gurus when the stock crashed more than 50% in a few trading sessions amid the revelations of Archegos Capital's business practices. This analysis tries to determine whether PARA stock is still a good buy amid the changing dynamics of the streaming industry.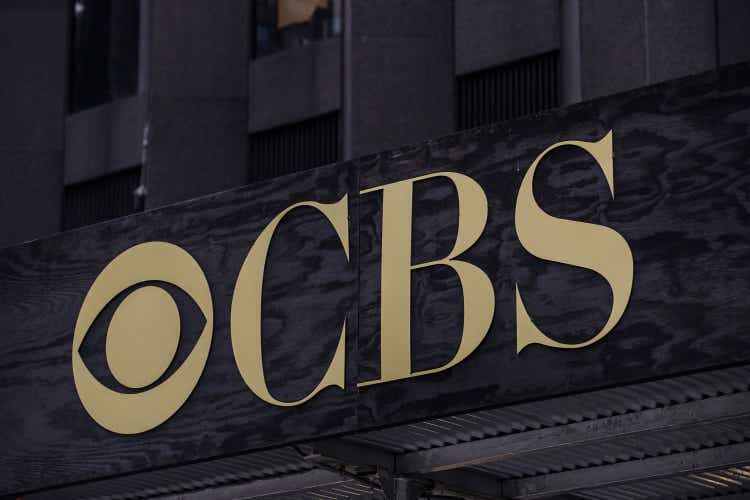 Why Has Paramount's Share Price Dropped?
ViacomCBS, formed by the merger of Viacom and CBS Corporation in 2019, was renamed Paramount Global in 2022. The multinational media and entertainment company, Paramount Global, distributes premium content across multiple media platforms. MTV, BET, Nickelodeon, and Comedy Central are among the well-known cable television networks owned by the company, as are the CBS broadcast network and several local television stations. In addition to the CBS All Access streaming platform and the Pluto TV streaming service, Paramount owns and operates a number of movie production and distribution companies, including Paramount Pictures. In addition, the company has a large international presence and channels, as well as distribution agreements with other streaming services.
Exhibit 1: Paramount share price performance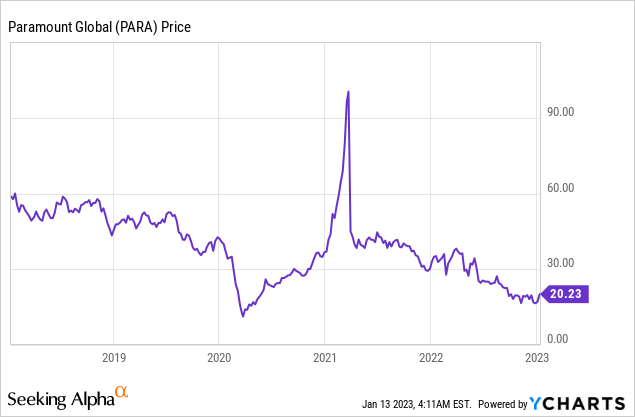 The company is facing difficulties as a result of intense competition in the streaming media and entertainment market. Although it is not the only platform under intense pressure to grow its user base, its operating earnings are declining compared to some of the more established players in this sector such as Netflix, Inc. (NFLX). Despite the economic reopening, the Paramount+ service saw strong subscriber growth in 2021. Pluto TV, the CBS network, and cable channels such as Nickelodeon and Comedy Central performed well too. However, competitive threats have exposed some vulnerabilities of Paramount such as the shallow content library of Paramount+. This has not bode well with investors.
The lackluster financial performance of late is another reason behind the continued decline of Paramount's share price. The company reported adjusted earnings per share of $0.39 for the third quarter of 2022, compared to the $0.43 expected by analysts. Paramount reported $6.92 billion in revenue, up only 5% YoY due in part to a slowdown in its TV media segment, which was down 5% as pay-TV subscriber numbers declined. Advertising revenue for its TV networks fell 3% to around $1.9 billion due to an industry-wide slowdown in ad spending. The stock took a hit after management warned that advertising revenue in the fourth quarter would be lower than in the previous quarter. However, revenue at its movie studio, Paramount Pictures, increased 48% to $783 million, while licensing revenue to other platforms increased 19% to $549 million. Additionally, Direct-to-Consumer revenue increased 38% year-over-year and total direct-to-consumer subscribers came to 67 million, both of which were promising signs of what the future holds for the company as a consumer-centric streaming platform.
Who Are Paramount's Main Competitors?
The competitive landscape needs to be monitored carefully as changing industry dynamics could tilt the odds in favor of one company while making it difficult for other companies to thrive. Paramount's competition stems from a few leading companies.
The Walt Disney Company (DIS): Disney operates several cable television networks, including ESPN and the Disney Channel, as well as the ABC broadcast network and a few local television stations. The company also owns and operates a number of movie production and distribution companies, including Walt Disney Studios. Disney+, the company's streaming video platform, is the market's fastest-growing and most powerful competitor. Disney+ has a large library of on-demand content, which includes licensed content from other studios, as well as its own original productions, which allows the company to offer a wide variety of content to its subscribers. Additionally, Disney+ has a strong selection of family-friendly content, which sets it apart from other streaming services that might have more adult-oriented programming. Its portfolio of original programming titles includes The Mandalorian, WandaVision, and The Falcon and the Winter Soldier. With such a rich library of popular and beloved franchises, Disney+ has been able to attract a large subscriber base, especially those interested in Star Wars, Marvel, and other Disney franchises. Disney+ also has a global reach and it's available in most countries around the world, which allows it to reach a global audience. The company also offers other perks, such as early access to movies, access to exclusive deals and discounts, and more.
Netflix Inc (NFLX): Netflix is a direct competitor of Paramount. While Paramount operates several different streaming platforms – each with a specific focus or target audience – Netflix is a more general streaming service that offers a wide variety of content, including original programming, movies, and TV shows. Its large library of on-demand content includes licensed content from other studios and also from independent producers which allow the company to offer a wide variety of content to its subscribers. Since the pandemic, Netflix has invested heavily in creating its own programming, which has helped it to attract and retain subscribers. The company also has a more global approach, as it's widely available worldwide and can be accessed from most countries. Netflix has been able to build a large subscriber base by heavily investing in technology and personalization. This has allowed Netflix to create a user-friendly interface that makes it easy for subscribers to find and watch the content they are interested in, as well as provide personal recommendations, which has further helped it to retain subscribers.
Amazon Prime: Amazon Prime, owned by Amazon.com, Inc. (AMZN) also provides a wide variety of content including original programming, movies, and TV shows to its subscribers. Further, the platform has invested heavily in creating its own regional shows which have helped it to attract and retain subscribers. Also, like Netflix, Amazon Prime Video is widely available worldwide and can be accessed from most countries. Amazon Prime also offers other benefits to its subscribers, such as free two-day shipping on millions of items, access to exclusive deals and discounts, and the ability to borrow books from the Kindle Owners' Lending Library. This combination of streaming content and other perks helps Amazon Prime to attract and retain subscribers who might not be willing to pay for streaming services alone.
Exhibit 2: Original content release volume by platform shows how Paramount+ is still a long way away from catching up with its peers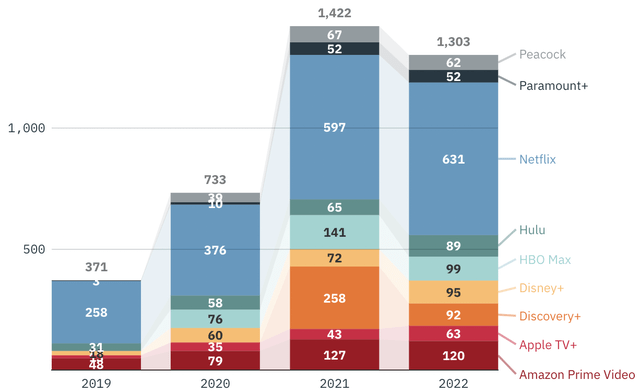 Source: Variety
These are some of the major media companies in the United States, but many other companies also compete in this industry, such as AMC Networks (AMCX) and Warner Bros. Discovery Inc. (WBD). On the other hand, Paramount has a portfolio of cable networks and streaming services, and has been investing in original content and a library of movies and shows from its own studios, as well as from other production companies, but still, it's not at the same level of investment as Netflix, Amazon, or Disney. Paramount uses a more targeted approach for specific segments, like BET for the African American communities, Comedy Central for comedy lovers, which might play to its advantage in the long term.
What Is The Long-Term Outlook?
Given the industry challenges, many streaming media companies are cutting back on content spending while raising prices. Higher spending on content development and production has aided these platforms in growing their user base in recent years, as economies were recovering from pandemic shutdowns. The shift to working from home also increased the demand for online content consumption. However, as things return to normal and economic challenges start eating into consumers' wallets, it is difficult for streaming media companies to continue investing in new content at the same pace they did in the last couple of years. According to the comments of many top officials at streaming companies, raising subscription prices is the only way to achieve operational efficiency and profitability today.
Paramount is going in the opposite direction. In December 2022, CEO Robert Bakish acknowledged that the management intends to spend $6 billion on content in 2024, up from $2 billion in 2021. These investments are intended to increase the number of subscribers to its streaming services. This means that the company's streaming operations will be losing money for the foreseeable future, which will be a major source of concern for most investors. Analysts predict that earnings per share will fall again in the current quarter. Although content creation is no longer a guarantee of a healthy bottom line, Paramount's plan to create its own content seems like the only way for the platform to stand out from the competition. Other streaming media behemoths have a massive library of original content that viewers cannot find anywhere else, giving them a competitive advantage. Furthermore, in a competitive market, owning the rights to content is important because it allows the company to monetize them through advertising or licensing deals.
The challenges posed by a slowdown in ad revenue are common across the industry. Price increases, geopolitical conflicts, and the energy crisis have had an impact on the marketing budgets of many companies across all major business sectors. Higher advertising costs make online advertising less profitable, particularly for small and medium-sized businesses, which account for the majority of online ad revenue. Furthermore, a decrease in disposable income is influencing consumer behavior and is shifting spending priorities. As a result, consumers are less likely to respond to ads or purchase advertised products and services as they used to a couple of years ago, which is acting as a barrier to the growth of the ad industry.
Exhibit 3: YoY growth in advertising spending in the United States (as of Q3 2022)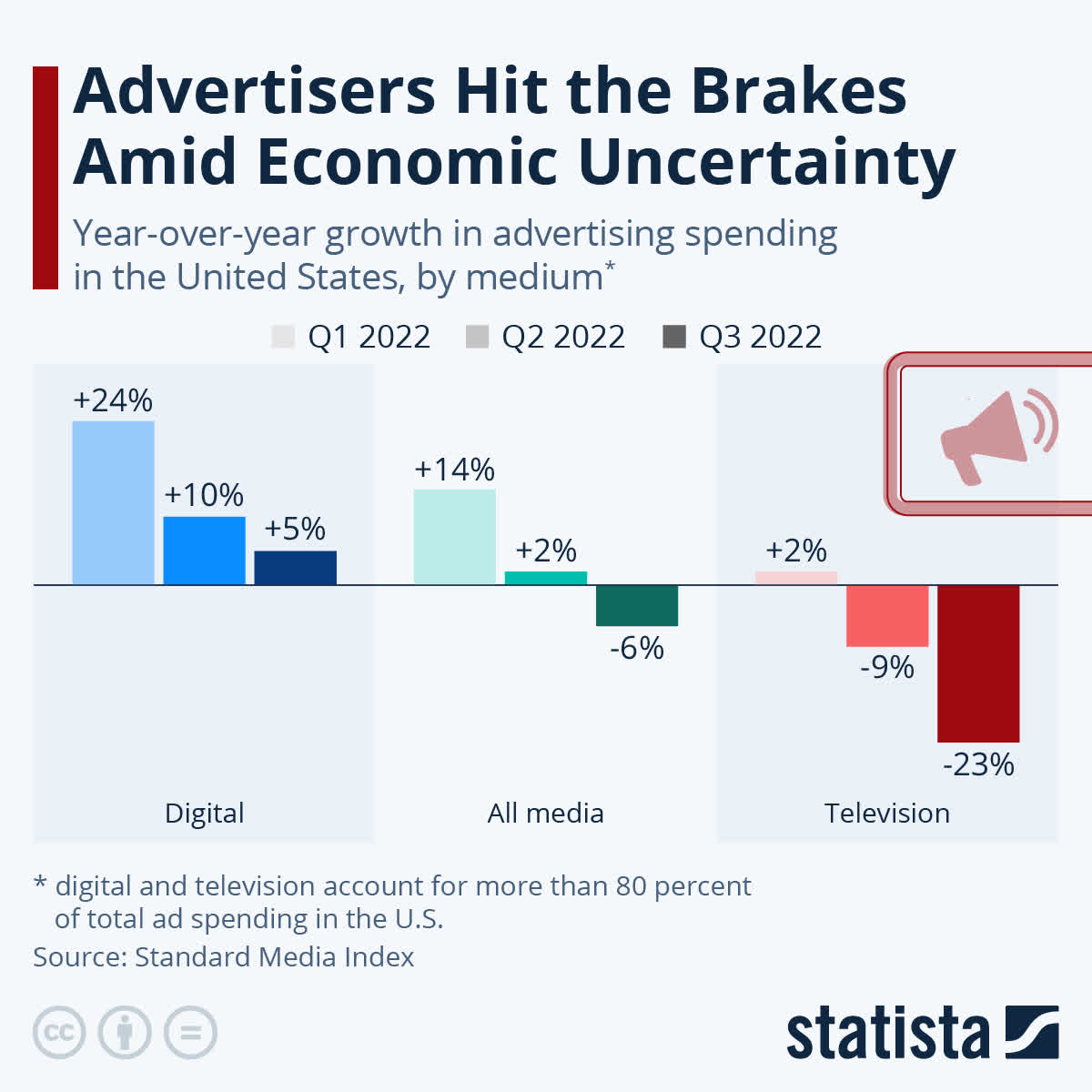 Source: Statista
According to Magna Global, the U.S. ad economy was sluggish for the majority of 2022 and is expected to remain so until inflation drops. Despite the sluggishness, total ad spending in the United States is expected to increase by 3.7% in 2023. Magna forecasts that ad spending revenue for media owners will total $833 billion in 2023, a 5% increase YoY. Ad revenue growth is expected to be in the 3%-4% range in North America and Western Europe. Asia Pacific region will see a 6% increase, while Latin America will see a 9% increase. Magna forecasts strong ad spending in India and South Korea of 14% and 7%, respectively. Given the expected recovery of ad spending in 2023, Paramount is heading into this new year on better footing compared to the last year.
Paramount's most visible growth opportunities will come in the form of an international expansion of Paramount+. The streaming service is currently available in just a few countries but the company rolled out a gradual expansion plan into Europe late last year, which is expected to gather some pace in the coming months. Expanding into Asia is the most likely catalyst that could help Paramount+ gain millions of new subscribers.
Is PARA Stock Undervalued?
Paramount Global, at a forward price-to-earnings ratio of 10, is significantly undervalued compared to its streaming peers. However, this relative undervaluation should not be allowed to cloud our judgment as Paramount is primarily a traditional media business that is still trying to get its act together in the streaming market.
With Paramount's pivot to embrace original content production, the company is likely to see better monetization rates in the future, which is a promising sign. With cable networks still dominating the broadcast of live sporting events, CBS can still add meaningful value to Paramount Global in the foreseeable future with its exclusive sports rights. I believe the network business will contribute the bulk of profits for Paramount in the next few years while revenue growth will be primarily driven by the growing streaming business. The success of the streaming business from a revenue growth perspective will not be reflected on Paramount's bottom line any time soon as content creation costs will far exceed incremental revenue in the short run, but as a long-term-oriented investor, I believe Paramount Global is undervalued today as the streaming success will eventually be reflected on its market value.
Takeaway
Paramount Global is not the ideal pick for investors looking to profit from the OTT streaming industry. PARA, however, is a great stock pick, in my opinion, for value investors looking for bargains in the media sector with a long enough investment time horizon to allow Paramount's streaming business to take the center stage.