view original
post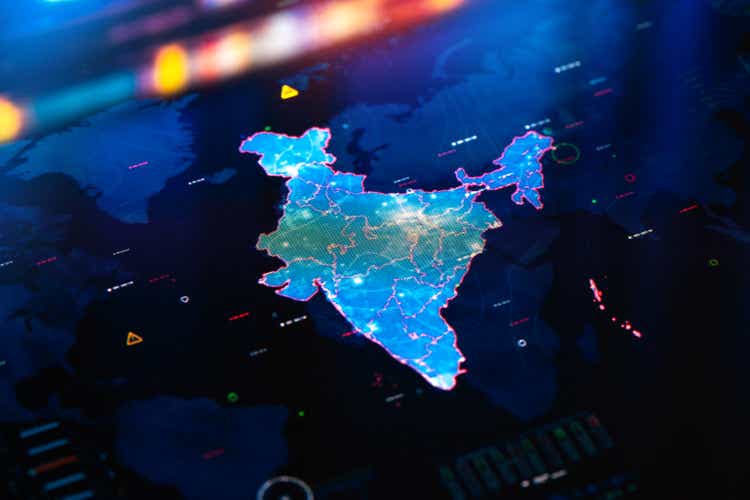 We believe India is set to surpass Japan and Germany to become the world's third-largest economy by 2027 and will have the third-largest stock market by the end of this decade. – Ridham Desai

If you're a follower of The Lead-Lag Report, you'd note that I've recently touched upon the notion of Quantitative Easing (QE) and how this previously impacted emerging markets (EM). If I may touch upon this again, since the advent of QE, EMs lagged domestic stocks as focus shifted to large-cap growth. With easy liquidity floating around, one also saw a plethora of buybacks across domestic stocks which boosted their allure. If you can see the merits of my thought process and believe that QE could soon be ebbing away, this could also mean a potential rebirth of EMs over the long-term.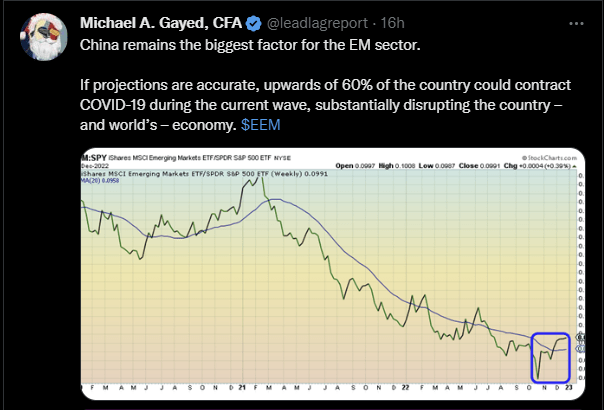 As noted in the 'Leaders-Laggards' section of this week's Lead-Lag Report, a ratio measuring EM stocks as a function of the S&P 500 recently broke past its 20-day moving average and is at its highest point since July 2022. Granted, for this rally to have legs, you're going to need some of the damaging health-related headlines from China to dissipate.
Conversely, instead of focusing on a diversified EM market, how about narrowing the lens and focusing on prospects in one of the hottest EM markets around the world- India?
As you can see from the image below, despite an unsteady external environment, the Indian economy has held up relatively well compared to most other EMs during the post-pandemic era. Much of this is on account of the resilience seen domestically. Strong GDP expansion looks set to continue with the IMF suggesting that India will likely emerge as the fastest-growing major nation in 2023 with GDP growth of 6.1%. To put this into context, that figure will be 2.25x the expected GDP growth of the globe and 1.65x the EM average.
If you don't have the resources to indulge in stock-specific research, you may consider looking at the close-ended stalwart – The Morgan Stanley India Investment Fund (NYSE:IIF). IIF has proven to be a tremendous source of alpha over the last two decades, delivering returns that are almost 3x as much as the popular iShares MSCI Emerging Markets ETF (EEM).
The Financial Sector Counts
If IIF is to flourish, a lot will depend on how the Indian financial segment fares, as that sector alone accounts for ~44% of the total portfolio, more than 2x as much as the next biggest sector – consumer cyclicals at 20%.
All things considered, it looks like this segment is in a good shape. Since dropping to mid-single-digit levels in early-2021, loan growth has continued to trend up over the last 18 months. Towards the fag end of last year, one was looking at solid loan growth levels of 18%, the highest level in close to a decade!
Given the high base effect of this year, investors may be skeptical about the future prospects of loan growth, but an important rating agency in India – ICRA, believes that credit growth could end up hitting 15-16% levels this year, followed by yet another year of double-digit growth (11-11.6%) in FY24. It also reflects when credit flow to small and medium enterprises has been leading credit growth as these are segments with inherently risky business models.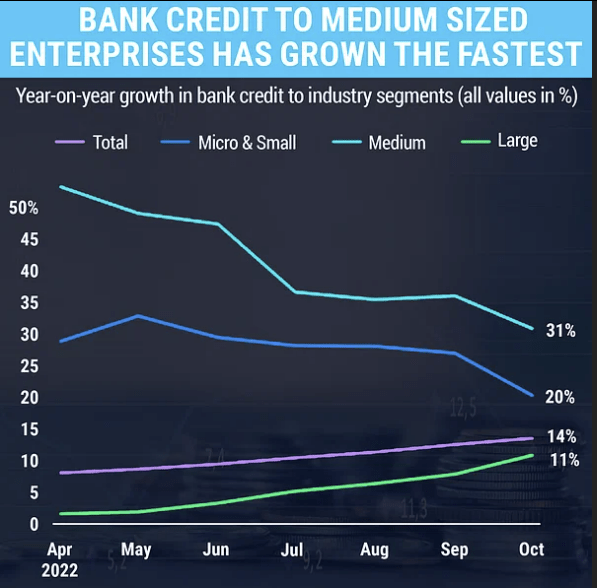 As far as asset quality goes, it's heartening to note that the gross slippage ratio for Indian banks currently stands at its lowest level in over 10 years at 2.2%. Going forward, one doesn't have to feel too troubled, as the Gross NPA ratio of Indian banks will likely decline from 5.1% at the end of Sep-22 to 4.1% by the end of Sep-23.
Conclusion
Those who've followed my work over the years would also note that I use a series of inter-market signals to gauge the volatility quotient and potential tail risks in the market. If we have a tail event and risk aversion were to pick up steam, EM currencies could remain particularly vulnerable. I suspect the INR could be in a better position to withstand this pressure as the Indian central bank already has a whopping $500bn of FX reserves which could provide solid import cover for 8 months. Not too many EMs can boast of such a strong cushion.
For all of India's merits, there's one key factor that makes this a tricky investment proposition, and that's the valuation quotient. According to YCharts, IIF currently trades at a pricey forward P/E of 18x, which is 57% higher than a diversified emerging market basket (EEM). But then again, quality never comes cheap.

Anticipate Crashes, Corrections, and Bear Markets
Sometimes, you might not realize your biggest portfolio risks until it's too late.
That's why it's important to pay attention to the right market data, analysis, and insights on a daily basis. Being a passive investor puts you at unnecessary risk. When you stay informed on key signals and indicators, you'll take control of your financial future.
My award-winning market research gives you everything you need to know each day, so you can be ready to act when it matters most.
Click here to gain access and try the Lead-Lag Report FREE for 14 days.